Own Your Own Internet Radio Station
SETTING UP AN INTERNET RADIO STATION:
Setting up your very own internet Radio Station can be as easy as 1 2 3,               
We will construct a professional web streaming website with an auto player so that your listeners won't have to down load any app's, special players or devices to listen live. Once your site is built we will then construct your delivery format such as MP3, WAV, etc. and create your playlist containing all your music ( whatever genre it may be ), special programs, commercials if desired, to include buffers and stingers as desired.
Once the above has been completed your just minutes away from going live..
This type of on-line radio station is best delivered via a Cloud DJ were it runs in full automation 24/7 however still allows you full control over the system, playlist and order of you music to be played in.
Okay your now live on the internet with your very own Radio Station streaming on your very own website, Now you want to add content to the page like Program Schedules, Online Donations ( if desired ) and  information about possible show host.  This action provides that Professional look and feel but more importantly you'll sound professional in every way.
To start your very own Basic Professional Internet Radio Station contact us today for a quote for complete ready to play stations which includes the following:
Domain Name

One Year Free Web Hosting
Infrastructure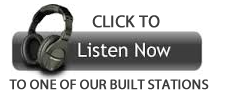 Website ( Setup for Streaming )
Cloud DJ – monthly fee 
Auto Player  ( for all devices )
Playlist Creation
Formation and Loading of Music ( starter list )
Activation
System Testing
Your Live ! This process usually takes 3 business days to complete.
 

WHAT ELSE WILL I NEED TO BROADCAST LIVE ?
You'll need the following items to broadcast live or stream pre-recorded audio:
1. A computer
2. A audio recording software of some kind ( Does Not Have to Be a Costly Software ) 
3. Microphone ( multiple mic's if you're going to host guest ) 
4. Head Set ( One set per Mic ) 
WHAT IS SHOUTCAST STREAMING?
SHOUTcast is a platform which allows radio stations to broadcast over the internet. It is used by over 50,000 radio stations world wide and has become the industry standard for stations wanting to broadcast online in MP3 format.
WHY IS SHOUTCAST GOOD FOR MY STATION?
It is good for your station because it is easy to use and so widely compatible. Listeners will hear you through all desktop media players like iTunes and Windows Media Player – plus an ever increasing number of mobile and other devices such as iPhone and iPad.
You aren't getting 'just' a SHOUTcast server with All Miami Computer, as every server includes an array of tools, resources and features. We've spent over 7 years developing our own technology platforms, of which many contain closely guarded trade secrets. We use SHOUTcast as the core foundation for our completely bespoke systems, to provide you with the latest radio streaming technology for SHOUTcast.
INTRODUCING A WHOLE NEW INTERNET RADIO EXPERIENCE.
Finally a web based system to rival desktop automation software. Cloud DJ is a simulated live source for SHOUTcast v1 & v2 Servers.
Keep your Radio Station On Air – Broadcast 24/7 without the need to keep your computer on all the time. Simply upload your music, create a playlist and walk away. It's that easy! Cloud DJ will connect to absolutely any SHOUTcast server – even if its not hosted on our network!