ABOUT US HERE AT ALL MIAMI COMPUTER
About Us here at All Miami Computer Service and Web Design Group develops nothing short of the very best in sophisticated powerful websites. We make sure we understand your goals and objectives and then we analyze the market demographics of your website audience. Once we understand the goals and objectives, we design and develop the website for your company to meet all your expectations and beyond.
Don't for the Holidays are approaching and we offer GIFT CERTIFICATES for complete websites. This makes a really great gift for that hard to buy for person.
Visit the Gift Certificate page!  Contact our office Monday – Friday 9:00 am to 5:00 pm or send us an e-mail.
 
If your business needs a specialized web design operation or a tailor-made content management system, not off-the-shelf packages, or a site that reflects your company not a generic business site, All Miami Computer Designs can help.
Our clients are businesses that require individualized web sites developed to support specific operations, or that need customized functions and databases. They are distributed throughout the United States, and to a lesser extent internationally. About one third have tried a local developer first before contacting us.

If you need a web site with rich user interactions that behaves more like desktop applications than like a collection of pages to be read, We specialize in interactive pages, databases and design-to-order functionality with the wow factor.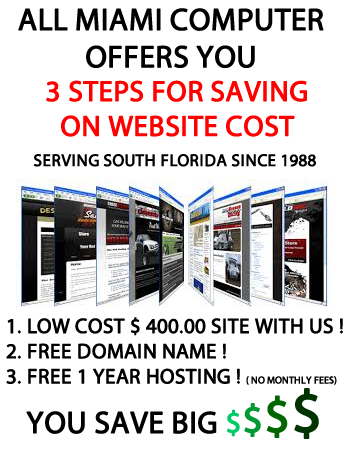 If you want stunning designs our web designers do original graphic development; if you need to stand out from the crowd, they use no pre-built templates and no shortcuts. If you want a shopping cart we can do that as well.
Reactions to your website are set in the first few milliseconds of a viewers mind – before they start to read it. How? By the immediate emotional response that sets the context in which your message is interpreted. Are you adequately managing that response?
There is no right design for all sites, all products, or all audiences. Each website needs to be individually crafted for its unique circumstance. This page and the pages that follow it provide a sampling of the diverse solutions we have provided for a host of different businesses and services needing the "All Miami Computer Web Designers" difference.
CONTACT US TODAY AND START HAVING YOUR CUSTOMERS VIEW YOUR NEW SITE TOMORROW
Computer Repair & Service
Here at All Miami Computer we strive to provide the very best in not only Repairs but in our Professional Customers Service as well, and with so many different types and manufactures of systems out there today we are steadily  staying up to date with all the latest solutions, hardware and software.
Being a Christian based organization we are very proud of our honest and direct approach to our business methods in that we quote a honest price for honest work completed, at no time do or will we ever try and sell you either service or parts that are not required.
We also work very hard in that we have a vast list of suppliers that we purchase from which in turn allows us to pass on the savings to our clients.
786-250-3235